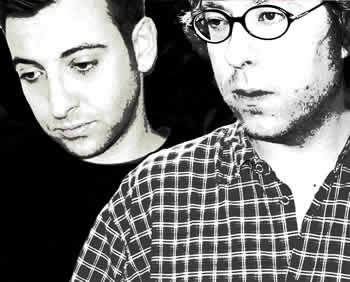 Biotron Shelf is my collaborative project with Wil Bolton.
Our first album release on U-Cover Records, 33 Minutes North (2006) offered ten tracks of sweet electronic landscapes with strong and well programmed beat patterns. Tracks were built around crafted melodies, complex textures and warm synthesizer tones, driven by strong stuttering beats and layered with distant voice samples and lost sounds.
This album was followed by the Transmissions EP on Smallfish Records (2008), which expanded our sound palette to include live instrumentation (acoustic guitars, banjo, rhodes piano and glockenspiel) alongside the crispy rhythms, atmospheric electronic tones and field recordings.
With our second album Cloud Bands and Arabesques (2011) we further expanded our sound with a collection of tracks that took in elements of classic melodic electronica, glitchy IDM, soft minimal techno and textured ambience. This was paired with our free release, Corrugations EP, in the same year.
At various times we've been likened to:  Plaid, Isan, FSOL, Biosphere, Jean Michel Jarre, as well as "everything you probably needed to know about electronic pop in the last thirty years".