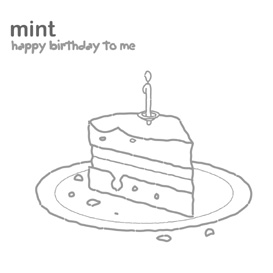 Released on my birthday (hence the title) on Boltfish Recordings, a 4-track EP. A predominantly downtempo and personal offering, with a gentle piano and guitar-based theme.
The first track, 'Life in Widescreen' also features on the Ministry of Sound compilation "Steve Lawler: Viva" (release June 2006).
Credits
Released 27 June 2005
All tracks written and produced by Murray Fisher
Cover artwork by Murray Fisher
Reviews
Textura – 01/08/05
"To a far greater degree than the norm, the songs on Murray Fisher's third Mint EP Happy Birthday to Me bear titles that distill their sonic essence in uncommonly astute manner. Though it begins with hazy organ triplets, "Life in Widescreen" gradually gathers steam with staggered rhythms of insistent beats, chiming keyboard melodies, and bright washes that collectively end up sounding suitably panoramic. An unashamedly (though repetitive) pretty piano melody forms the core of the lovely lullaby "For You" while "Hilltop" conjures stately atmospheres of immense breadth. Bringing the EP to a dusky close, melancholy piano figures imbue " Midnight " with a retiring nocturnal essence. Oddly enough, unlike the song titles, the EP's celebratory title hardly matches the music's generally restrained character.
"Tesselate – 20/07/05
"Happy birthday to me slides another quality page into the c.v of Mint. The release is full of atmopshere and plays like a history of something special captured on a cd in audio form for us all to enjoy. Definetly one to check out. Recommended!"
Untitledmusic – 19/06/05
"Mint returns on Boltfish with 'Life In Widescreen'. Right from the start you'll be hypnotised by the tracks beauty and musical magic. Gently rolling chords and layers of instrumentation build a rich track, enabling you to dive into an ocean of interest and emotions. 'For You' is fucking stunning. Chilling piano's keys step across of glacier of audio mist with distant chords and drifting ambience swirl around your soul. 'Hilltop' is eerie and expansive, it remind me of standing on a mountaintop and panning around to take in the view whilst the airbrushes against your chest and the world looks a miniature paradise. 'Midnight' uses more stunning keys and drifting mellow vibes to build a cinematic track that is just chilling to listen to."
Etherreal – 12/08/05
www.etherreal.com/magazine/disques/?file=mint_happybirthdaytome